How to Begin...
Your Karate training
Resources:
None at Present
Options:
By simply following the steps below, you could very soon be a part of a group of students, studying Karate, Goshin Jutsu (Self Defense) and Kenpo.
1. Call for Information
Call for information - (512) 953-3656 or email Sensei Eugene (using the link below)
Whether you're a beginner or blackbelt, you probably have questions about our Karate traditions, its benefits, and what to expect at our school.
Our instructors are here to help you with answers.
2. Visit the Dojo (Club)
Joining a Karate school is an important decision. Come in and get a feel for the quality of our instructors and students, and for our family-friendly atmosphere.
Our dojo has members from ages 5 to 73!
3. Take FREE Trial Lessons
Put on some comfortable clothes and jump in! Get a first-hand look at our traditional Karate curriculum. (BTW, we will give you the first month FREE, just so you can be sure this is the right fit for you. No Commitment, No contracts, ONE MONTH FREE)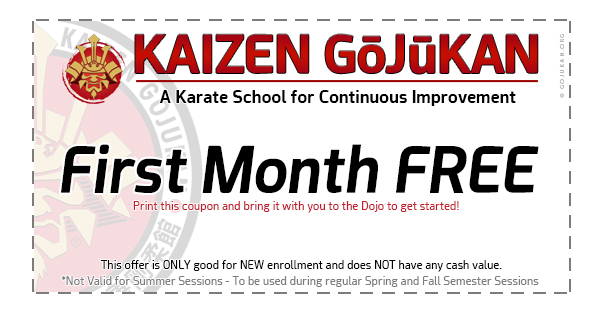 4. Enroll in the Kaizen Gojukan
When you're ready, ask to join as a member and Sensei will put you in the program that best fits your personal goals, or your children's needs.
For More
For more information, please follow the links below:
F.A.Q. (Frequently Asked Questions)
Location/s: (See Below)
Uniform: (more on this soon)

But, just to answer some of your questions right now:
Location/s:
The Kaizen Gojukan is currently meeting and training at the following venue/s:
Stonehill Seventh-day Adventist Church. (4301 Kelly Lane, Pflugerville TX 78660) Map & Directions
Cost:
Annual Affiliation (Includes Club, and International Membership): $40
Monthly Fees: $40/$45*
Testing Fees (Includes Belt, Certificate and Admin Fees): $35 (Cubs & Cadets) $40 (Juniors & Seniors)*
Uniform: $30** (Roughly)
Uniform Patch: $10 (Required)
- - - - -
A gi (karate uniform) is required for practice and can be purchased for about $30.  Orders for gis are placed by the club to get a group rate or members may purchase their own.  (A gi is NOT required as a brand new beginner--new members may practice in work out clothes.)